24th March 2023 / by Cathay Investments
Amethyst Group goes live with Toys R Us in the UK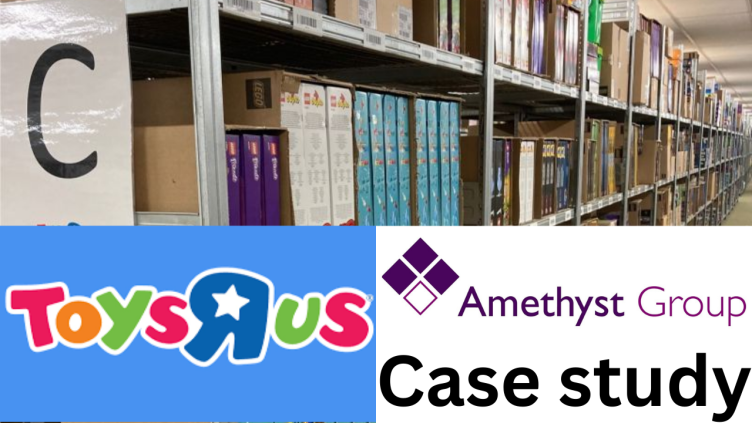 3PL Case Study – launching a b2c warehouse for Toys 'R'​ Us
March 23, 2023
Toys R Us UK approached Amethyst Group Limited late in 2021 looking for a logistics partner to launch them back into the UK.
They required a 3PL who has experience in organising, setting up and controlling on-line businesses as this is how they planned to re-launched the loved brand.
Their due-diligence was stringent as their re-entry into the UK market depended on this being successful, which in turn determined the future of any return to store level.
After a yearlong discussion, Toys 'R' Us chose Amethyst due to their 22 years of experience working within the toy company sector, and the ability to provide the following solutions:
Over 6,000 pick-faces of different sizes over a 30,000 square foot area within our Super-Hub in Wellesbourne.
Record all pick faces within the Warehouse Management System (WMS) for complete inventory identification.
Provide complete visibility through the WMS portal for all orders from receipt through to dispatch
Provide up to 5,000 additional pallet spaces for bulk stock.
Bring in a staff base of 20 operatives to pick, pack and prepare to despatch all of their orders.
Organise a dedicated administration team to cover all administrational and customer related communications.
Put in place a dedicated Management to Operative structure for 100% escalation.
Create a 'Wave and Batch Picking' system for time and cost effective order picking.
Operate to stringent SLA's
Source very competitive rates through carrier partners for parcel deliveries.
Operate a 7 day a week service.
A scalable solution, cost effective, solution both for the peak Christmas period and also within quieter periods.
Toys 'R' Us went live two weeks before Black Friday (after a two week trial/training period). The business has grown rapidly since.
There is now a project to supply a national flagship chain with stock into their top nine stores. Amethyst have been involved with all meetings concerning supply. This goes live in later in 2023.
Amethyst's record in the ecommerce sector includes:
Running the New Look on-line operation for five years (before they moved into their own purpose built building); during this period Amethyst created and launched their click and collect service.
Creating and controlling the on-line business for Uniqlo from the start of their UK presence into an 'order by midnight and have it in the store by 9:00am the following day' service.
Running Agent Provocateur's operation to service its retailers and its online ecommerce site. This involves specialised packing to a high level to give the end user an element of having their purchase 'presented' to them on delivery.
Worldwide distribution for HiSmile, an Australian teeth whitening product. This included up to 4,000 individual sales picked packed and despatched to  customers on the same day during a Black Friday sale.
Due to the above Amethyst was able to produce a working model to show how the Toys 'R' Us operation could be started and run from our super-hub in Wellesbourne.
Amethyst won the contract in October 2022 and have had a very successful launch, Black Friday and Christmas period.
Amethyst is part of Cathay Investments Limited, a European wide group specialising in distribution and logistics. Our specialist teams can move your goods from factory to customer covering freight forwarding, warehousing and transport.
For more information about Amethyst Group, please click here.
Recent Posts
---